Earn.com – earn bitcoin by replying to emails and completing tasks

13

min read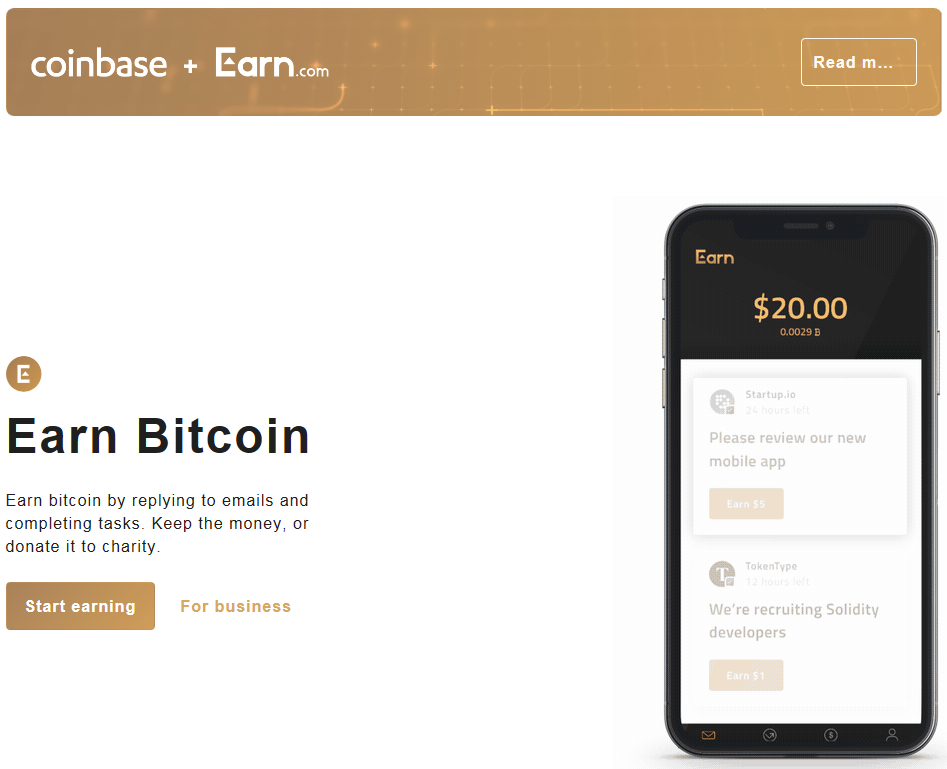 What is EARN.COM
Earn.com is where you can earn bitcoin by replying to emails and completing tasks.
I have been on it for more than a month and all the tasks that I have received were pretty easy, easy $1. Most of the tasks and messages I got were mainly for ICO.
If you have more to offer then you might get more than just $1 per tasks or messages. Earn.com is very good especially if you are a professional and got skills to offer. You could charge more than $1 and up to $100 per message or per task.
However, if you are like me who don't have much to offer, it is still good. Get easy $1 for just a few questions or tasks.
Below images are the example of the survey or task that I get emailed and the responses that I have to make.
Very easy isn't it? I only started about 1 month ago and I now have about $29 and by the way, the total amount of your earnings from earn.com will go up if price of bitcoin goes up as well (and of course goes down when bitcoin prices go down). Remember you are actually getting paid in bitcoin.
Tips and Tricks
Before you start, there are some things that will help you getting verified and makes it easier when doing the tasks without signing up on the fly.
Below are list of things you could do to get verified on earn.com.
Institutional or Work Email For Auto Account Verification.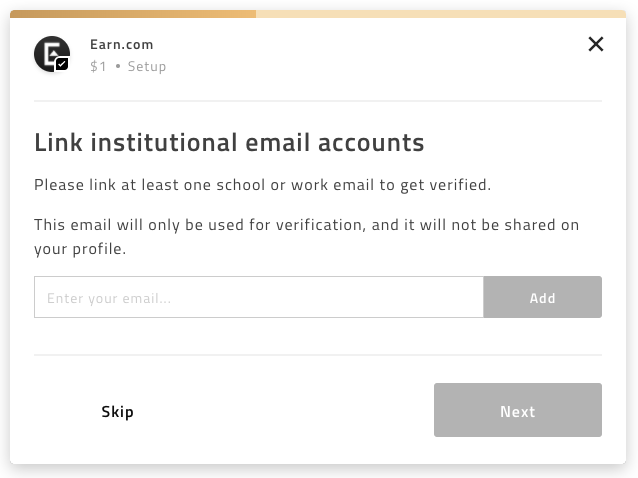 Now this is very important for a sure quick verification of your account. If you have work or school email like say yourname@mywork.com or yourname@school.com.edu put it in as other email. Use your normal email like yourname@gmail.com or yourname@hotmail.com as your primary email so that all your paid messages or tasks will go directly to that email not your work mail.
If you can't get any of that institutional email it is okay, this means you will be queued for a manual review by their team and waitlisted.
Even if your account is not yet verified you can still set up your public profile, send and receive paid direct messages and set up a paywall for your Gmail inbox
Social Media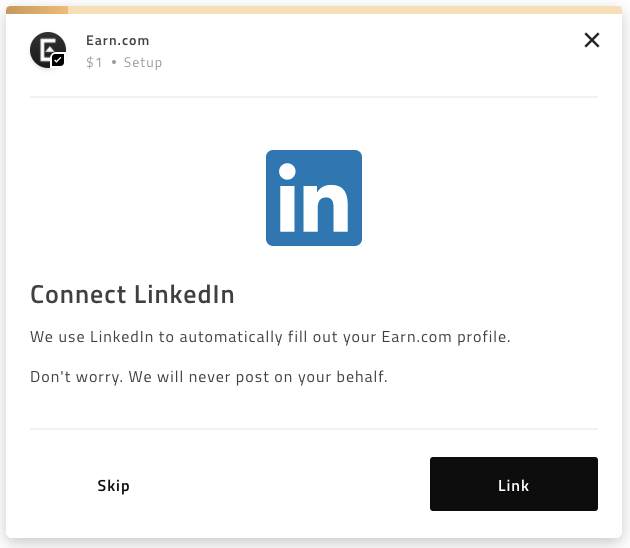 Sign up for linkedin.com, this might help you with earn as well but you will need a minimum of 50 connections. Don't worry just invite anyone you see on linkedin.com and you can also add me https://www.linkedin.com/in/lowelltanobey/
If you do this first and manage to get your 50 connections before you sign up for earn.com then your verification might be faster.
Facebook, twitter, youtube and github are also able to be linked with earn. Linking these social media platforms is good because people that are offering paid tasks can see that you are followed in social media platforms. It is also helpful in verifying your account so it is better to use your user name and profile picture same as what you use for your facebook account.
All these verifications are required to insure that you are what you say you are and not just a fake account.
By the way, you will also need a "telegram" account which is required with some of the task as shown above at the "example survey or task".
Coinbase recently acquired earn.com, so if you are verified with coinbase you will probably have a good chance of a quick verification on earn.com.
You could also use coinbase to withdraw your earnings from earn.com.
Join Coinbase.com here
Earning From Earn.com
Once you have set up your account, it's time to start earning. Your first task will be setting up your profile and that will earn you $1.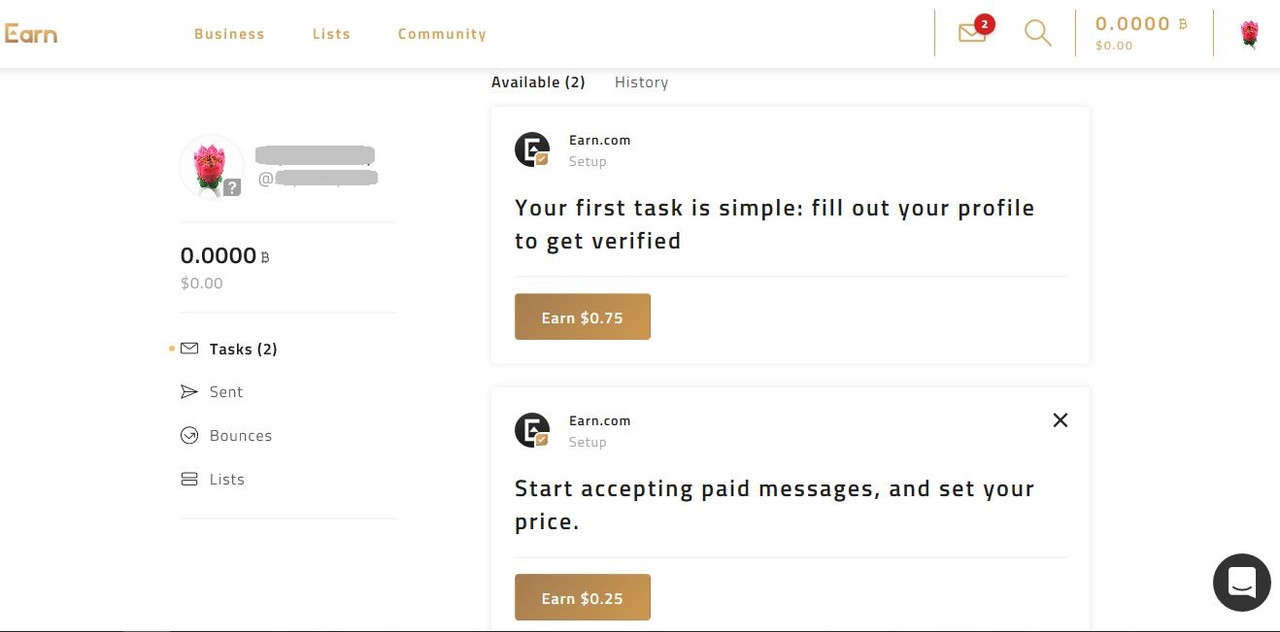 Go to "Lists" tab and click on "Browse Lists". Then try to see if you can join in all of the lists listed.
Get yourself an ethereum wallet where you own the private keys. You can get it from https://www.myetherwallet.com/ or by downloading the chrome extension Metamask. Or better yet have a cold wallet like Nano Ledger or Trezor.
You will need that address with some of the "Lists" and for the "Airdrop Lists"
That's it, good luck!
DISCLAIMER
I don't claim to be an expert about the article mentioned above. The article above is based on my own experiences and my own research. I don't claim it to be 100% accurate.
I am not a financial advisor. The article above is just my own opinion. Please do your own research.