XPONZ Coin Review – Philippines First Successful Crypto Or Another Scam

23

min read
Discussion with Cliff Howard, lead developer and founder of XPONZ coin project.
Update:
The article below is the first review I made about XPONZ. They have made some new updates and upgrades lately and it is all covered on my latest review of XPONZ.
You can read my latest review on XPONZ project HERE or go to this link https://steemitblog.com/xponz-revisited-part-1/
As promised to Cliff Howard to share our discussions with other BNL members as well. This discussion was sparked by Cliff Howard's post explaining his side to others regarding their attack on his XPONZ coin or project.
I have started this discussion when I heard Cliff was saying that "it does not require fiat to buy xponz".
What I have noticed is that Cliff is making sure or insisting that it don't need fiat money to buy or get XPONZ coin. He is saying that the XPONZ coin is the utility coin for their projects or business.
What I also noticed is that he is a bit cautious by saying that government don't have any reason to probe the XPONZ coin and XPONZ business because it does not accept fiat and it does not deal with pesos which is controlled by the government.
He said that people don't need to use fiat to buy XPONZ coin because they can mine bitcoin, litecoin or ethereum then whatever they got from that they can use it to buy XPONZ.
BTC – mineable ETH – mineable LTC – mineable

Yan yung mga market na available para minahin mga mga computer. Ang cryptocurrency na available sa market for xponz ay mineable. Kung ayaw nilang gumastos gamit ang pera minahin nila ang mga yan.
I am now confused because one of their main business is to provide "mining hash for rent" to educate people about mining. However, you need XPONZ coin to be able to participate in that "mining hash for rent". Is this mean that before I get educated on how mining works I need to mine first, defeats the purpose of the "education part of it".
On his statement as seen below, he is basically saying that it is the customers fault or responsibility if they use their fiat money to buy XPONZ or other crypto like bitcoin, litecoin or ethereum to buy XPONZ
Ngayon kung binili man nila ang mga nabanggit ko thru fiat hindi ko sinabing bumili sila ng mga yan thru fiat, walang nag uutos sa kanila na bumili kayo thru coins.ph or any trading platform n natanggap ng fiat payment.
It seems like Cliff is trying to steer away or not to get involve with fiat money or the peso maybe because he probably think that if they are accepting fiat money they will be subjected to Philippine government laws and regulations.
So I asked him "Dont tell me you are not going to sell that crypto into a fiat to support your business?"
This was his answer
No, as we said
Cryptocurrency lang ang tinatanggap namin na pambayad sa xponz
I pressed on by saying this "But please sir everything ends in fiat"
This was his answer
Yes!! Kaya ka nagmina kasi gusto mo kumita,

Dun tayo sa start point. Yung dulo kasi tiningnan mo.
His exact word, (in english) "that is why you mine to make money"
But then he contradicts himself by saying this.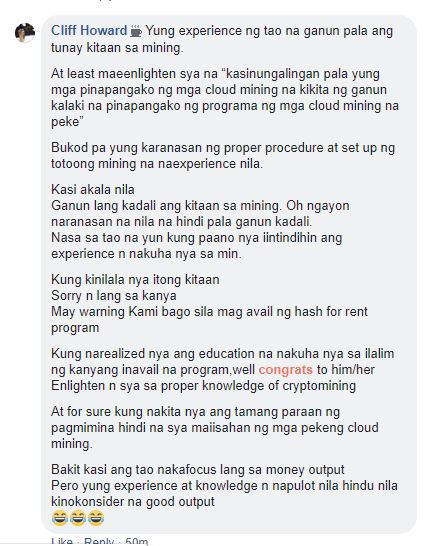 If you read his last sentence he said "why are we focusing in money output only, why don't we also consider the knowledge that the user get as good output."
Fair enough, since their business is to provide education, the main goal of you paying $19 USD per 7 days for their mining hash for rent is the experience that you get not the money that you might earn from mining. That is more than 1,000 pesos for a 7 days experience. So what type of experience are you going to get from that.
XPONZ Mining Hash For Rent Contracts
The image below is taken from their bitcointalk post https://bitcointalk.org/index.php?topic=4425156.0 . They now have a new post omitting the contract but this time I have screen shots.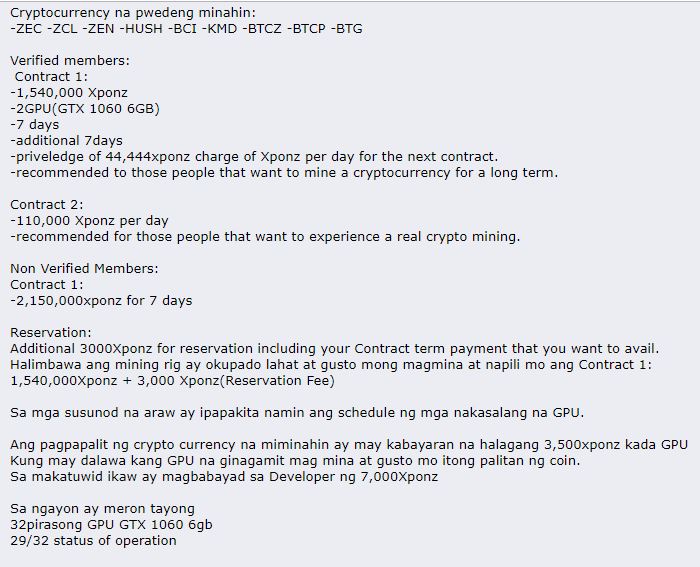 These mining GPU's are not cheap. As the image below 1 GPU goes about $319 and he have 32 of these! How much is that in pesos $319 x 54.24 pesos = 17302.88 pesos each and the whole 32 x 17302.88 = 553692.16 pesos. That is half a million pesos and that is only for the GPU's.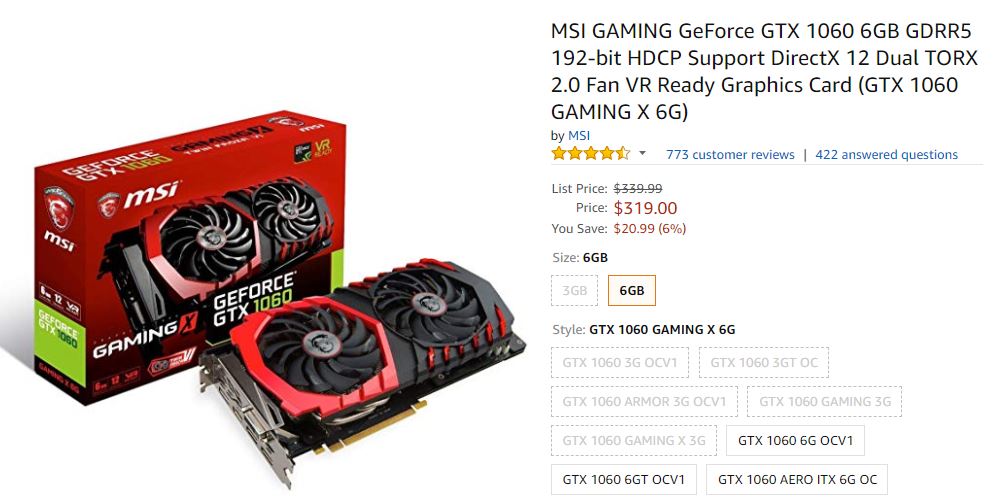 You Can Afford Half Million Pesos Mining Rig But Can't Afford 1,000 Pesos Domain and Web Hosting?
When I saw the amount of mining rig he have like 32 GPU GTX 1060, I immediately looked at the origin of this XPONZ coin.
When they first started their website is only a free website from wix.com. If you click on their first website it is now redirected to their new website. This means they could not even afford a proper domain name and a shared web hosting before. Cliff told me that those mining rigs were already his before their IPO but if you can afford a half a million worth of mining rigs then you can afford a 1,000 pesos per year domain and web hosting for your website.
To see their first website go to this link, https://www.coingecko.com/en/coins/xponz and you can see their website is https://xponzxponz.wixsite.com/website. Or why don't you just go to this free subdomain website https://xponzxponz.wixsite.com/website and you will be directed to XPONZ main website.
The image below was taken from their first post in bitcointalk.org (https://bitcointalk.org/index.php?topic=4425156.0)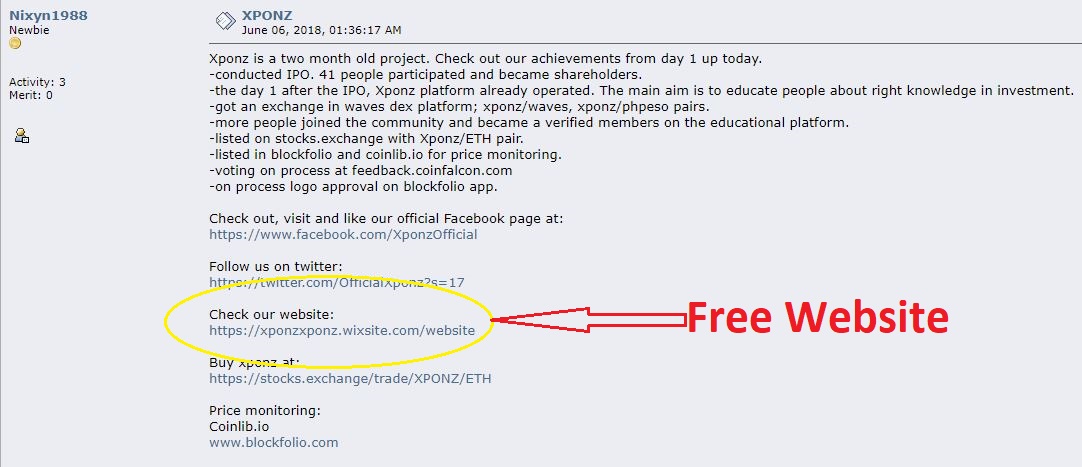 A Whale Dump 💩💩
Most of these crypto currency conduct an ICO or IPO to raise funds and Cliff Howard's XPONZ coin is no different. They used the waves platform to create their token which is very easy to do. You can see on this link how easy it is to do an ICO and create token under waves platform https://waveslabs.com/manual/
According to him there were 41 participant and all 1 billion XPONZ coins were 100% distributed. Maybe he's got 41 friends and relatives or maybe he got all the coins we never know because their is no smart contract wallet as they have with Ethereum.
I have raised my concern about a few individuals have control of the majority of the coins. We all know what is going to happen if the price of XPONZ coin go up, they (the individuals who hold most of the xponz coins) will dump all their coin which will bring the price very low to nothing. This is the main concern on this because I saw it happened and it happened to a coin that I was holding before.
Cliff did agree with me that it is a possibility that one day when the price of XPONZ is a little bit higher or high enough, a certain individual could sell or dump all his/her XPONZ coins, which will bring the price really really low.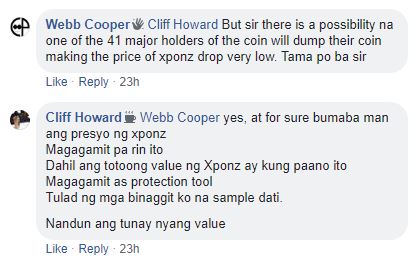 He is also saying that it don't matter how low the price of XPONZ coin it is still be able to use for their service. Of course it is because it is the business main currency.
Their XPONZ coin is also POS (Proof Of Stake) which means you can earn XPONZ coin if you have xponz in your wallet and leave it on or online. This is called staking or forging. The problem with this is the wallet that have the most xponz coins will probably get or win all the blocks and who own the biggest chunk of xponz coins, probably Cliff himself or 1 of the 41 participants during the IPO.
A quote from investopedia.com
Proof of Stake (PoS) concept states that a person can mine or validate block transactions according to how many coins he or she holds. This means that the more Bitcoin or altcoin owned by a miner, the more mining power he or she has.
We Need More Proof
Cliff is saying and also stated in their website that their code is OPENSOURCE. This is what opensource means to the crypto community.

"Publicly available for anyone to read. An industry standard to publish the code on GitHub for reviewers to EXAMINE. It helps assure users that a project is legitimate".
Cliff Howard's XPONZ coins is not that, he is arguing that because they have their web wallet and you can download it, TO HIM that is opensource.
I think Cliff is misunderstanding about open source code. He is saying that if you download the wallet you have the full source/node. I don't want the node or the front end of your wallet I want the software or program code. The code to make that website.
This is coming from a person (me, the author) who is not a coder, programmer or developer, so he could be right on his claims.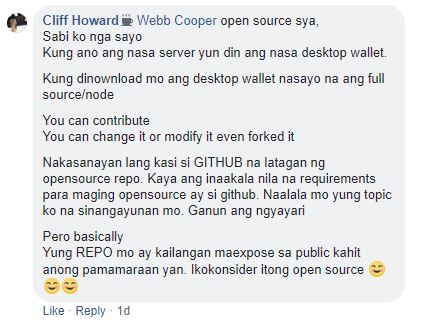 I can also sense an arrogance in his reply saying that "only the one who have the know how (a programmer / developer) is able to see the source code which is the downloaded wallet." O well since I am not a developer or programmer maybe I can get someone's help to get clarification on this.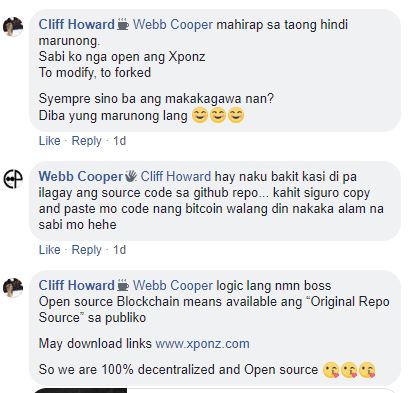 You know what, I think they have something to hide. It is not hard to get account in GitHub and then post the code.
Well that is their own prerogative, but they should not mislead the public by saying OPEN SOURCE and DECENTRALIZED if you can't prove it. This is a challenge to Cliff Howard and their team. You want the public to trust you and your xponz coin then list the source code on GitHub, can't be too hard.
Two Tokens, XPONZ Coin and PHPeso Coin
Yes you got that right, Cliff Howard have 2 tokens or coins within their business. The XPONZ Coin and the PHPeso token. You don't have to go too far from their website to find out about that PHPeso token. Their links for their "HOW TO BUY XPONZ CRYPTOCURRENCY" and "OFFICIAL ASSETS FOR DEX" directs to this https://www.xponz.com/official-assets-for-dex

The PHPeso is mentioned on this page numerous times.
1. Phpeso is a Proof of Funds (BTC x Php)
2. You intended to change your BTC to Phpeso
3. on the Phpeso Dex market
4. Can i convert my Phpeso back to BTC?
5. Yes. Phpeso is 100% proof of funds platform, etc, etc, etc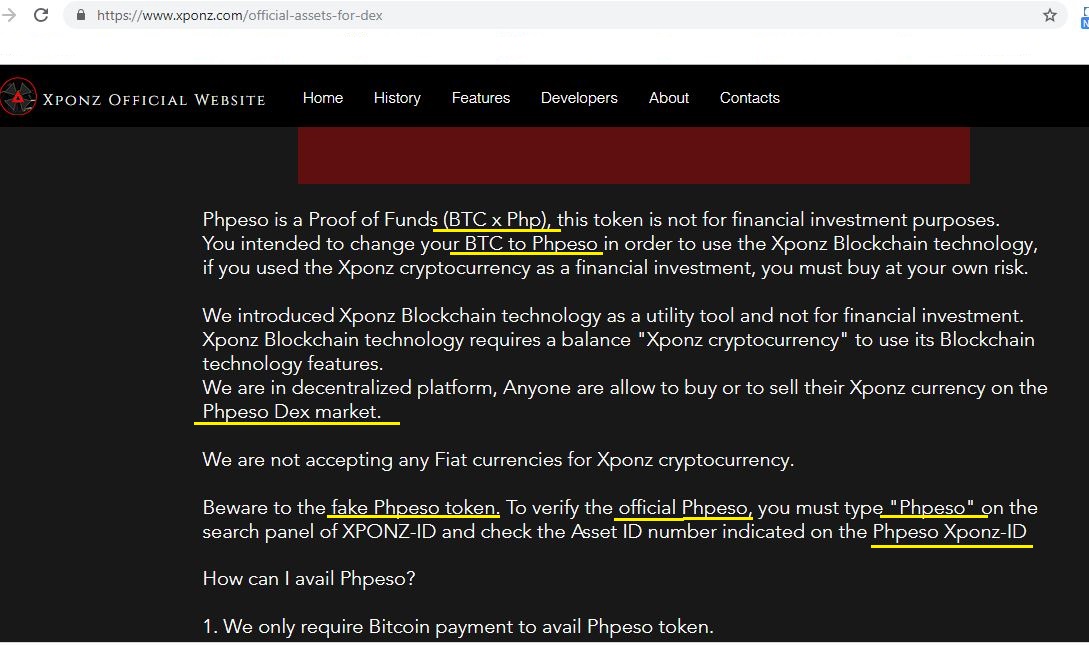 Cliff Howard actually told me that this PHPeso is dead but still all over their website and their actual wallet.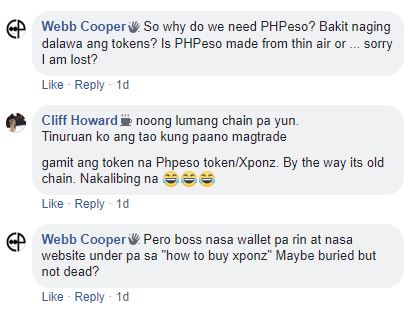 More Lies?
Cliff Howard kept on saying that "NO WE DON'T ACCEPT FIAT!"
What do you call these USD and PHP in your wallet  and in your wallet exchange?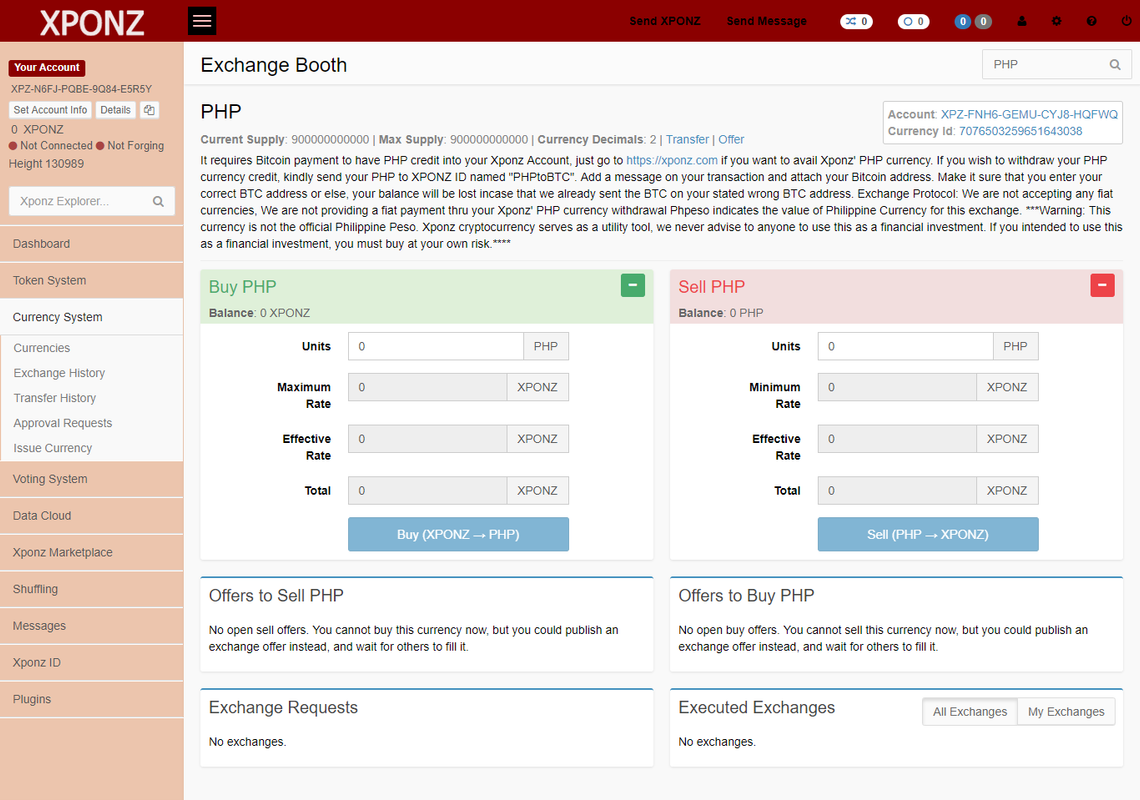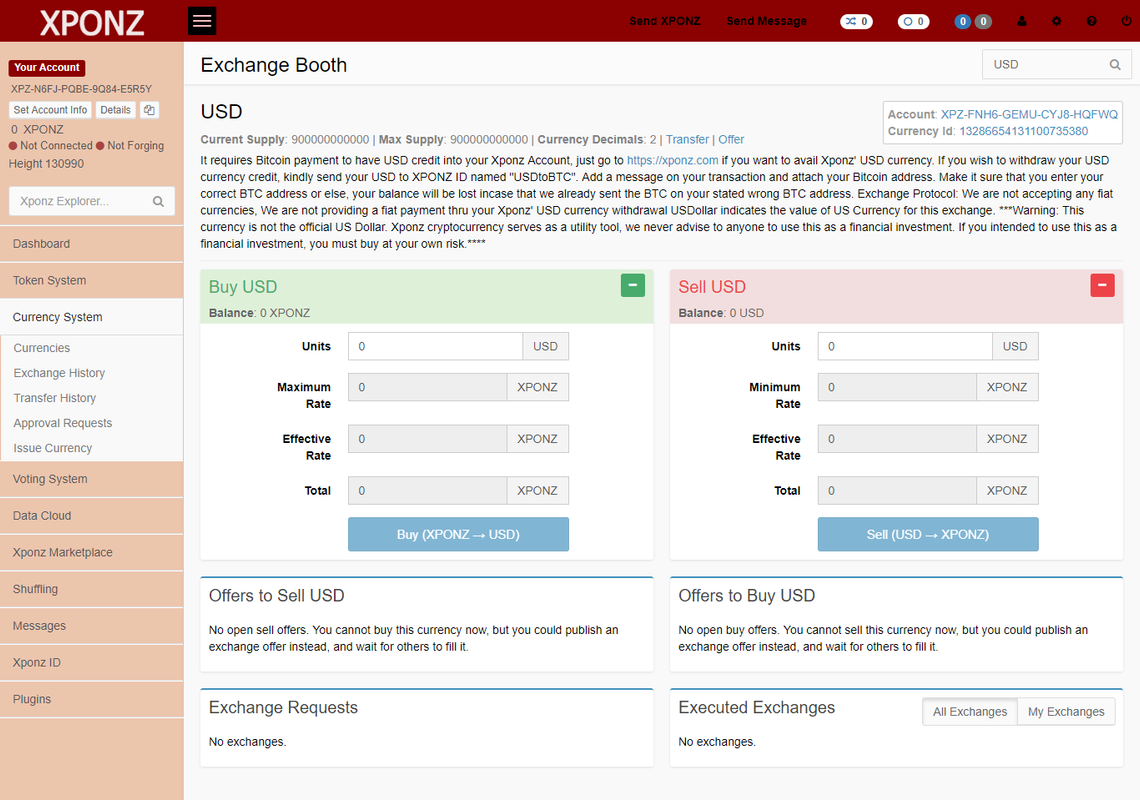 Red Flags
Cliff Howard said those mining rigs was already his even before the IPO. If you can afford 32 mining rigs which costs about half a million pesos why can't you afford a domain and web hosting instead of that FREE SUBDOMAIN from WIX.
There were only 41 participants on their IPO and all the XPONZ coins were 100% distributed. We could easily assume that those 41 participants are his family and friends. The issue with this is that these 41 individuals hold the majority of the coin. They can sell a little to bring the price up and to encourage the public to buy in. What happens when the price gone up, these individuals can just sell all their coins bringing the price down. Who will lose out? The public or the people who bought in at a higher price.
Deceiving the public by not mentioning the second token they have the PHPeso token. He said that token is dead but it is still active in their website and in their wallet. A BIG LIE.
Boasting that their code is open source but will not put it on GitHub. Put it in and we get people to inspect it. And please don't tell me that BS about downloading your wallet and I get the software source code. If you are true to your customers and investors prove it by putting that source code in GitHub. Or just fess up and say that it is not open source.
Cliff said they don't accept fiat money or don't deal with fiat money. Another BIG LIE. What is that USD and PHP as seen in your wallet and wallet exchange?
After our discussion in Facebook, they went and change their links to their bitcointalk.org post to a new post where they have omitted the details about the "mining hash rent" contracts.
Cliff is very aware about his mistakes about the PHPeso token… if it is true that it is dead why is it still active in their website and in their wallets.
My Last Word
All these red flags that I have seen and found out about the coin XPONZ, all I can say is this is not promising.
What I think is that these people 41 or what ever, probably made a business deals where they all put money in to buy these mining rigs. They can use it to mine cryptos and split profit according to shares.
These blockchain and xponz coin is like killing 10 birds with one stone. They created a coin which is distributed among'st themselves and trading it among themselves in the exchange and sooner or later other people will also buy it because most people in Asia love putting money on these low value coin hoping that it might go up one day. When this happens these individual will sell most of their xponz coins. BRILLIANT ISN'T IT?
While they have all these mining rigs they can also get them for rent. They will say that it is for educational purposes so that even if the person who paid 1,030 pesos per 7 days rent will lose money, they just say at least you gained experience. Now you know that you don't always get profit from mining. REALLY BRILLIANT.
Or
Their motives are honorable and what they all say are true but they just don't know what they are doing. Well if this is the case then I have pointed out the red flags and discrepancies and also pointed out my concerns. They should address this and start with the very basic ones like changing the website and wallet to get rid of that PHPeso and remove the USD and PHP currency in the wallet. Then for God sake post that source code in GitHub or just say no it is not open source after all.
These are the screen shots of my conversations with Cliff Howard.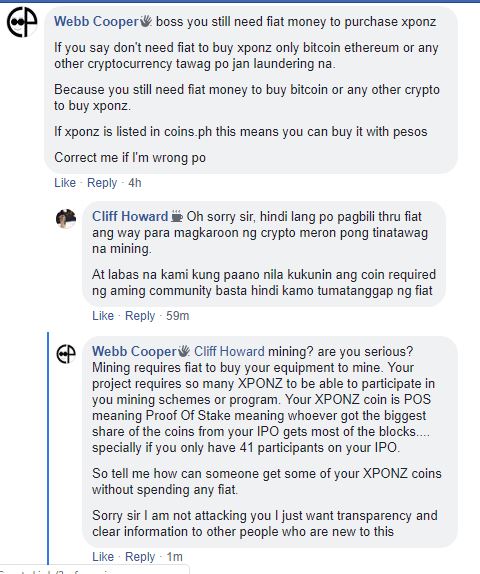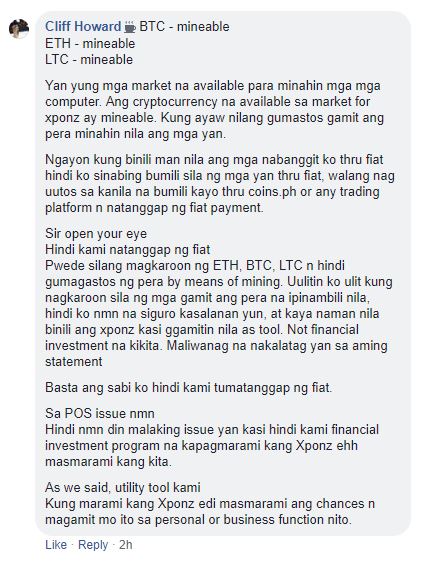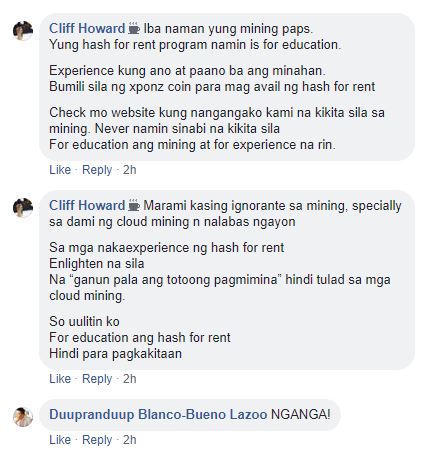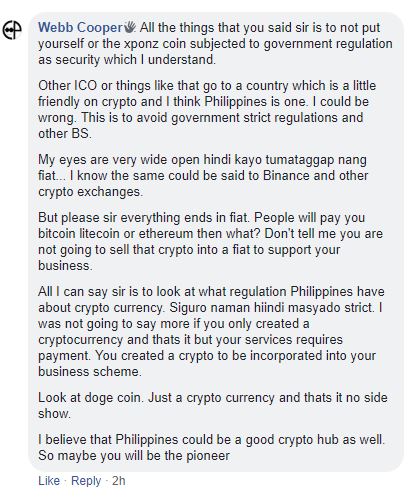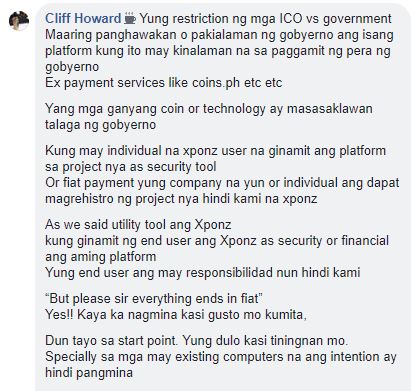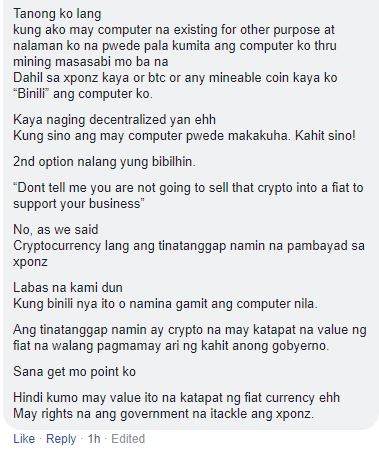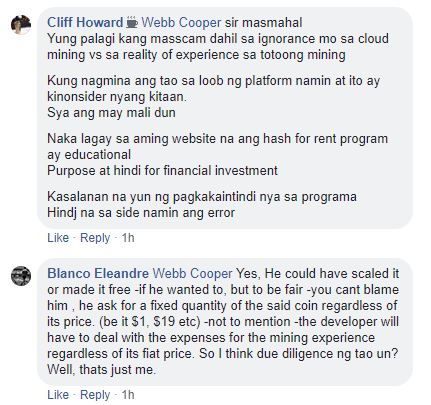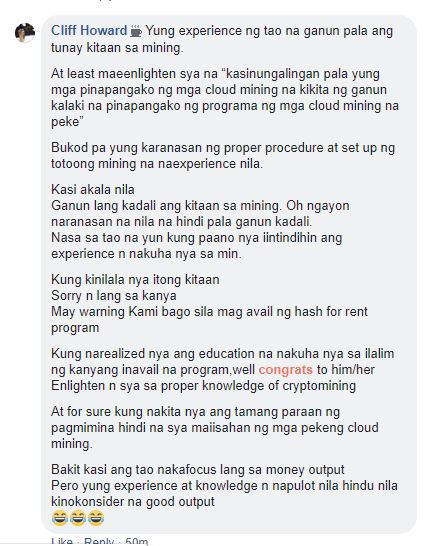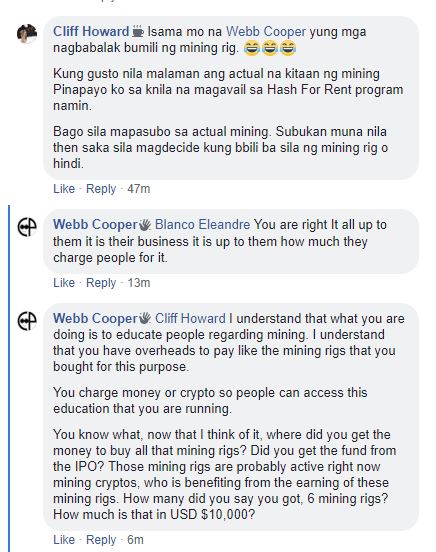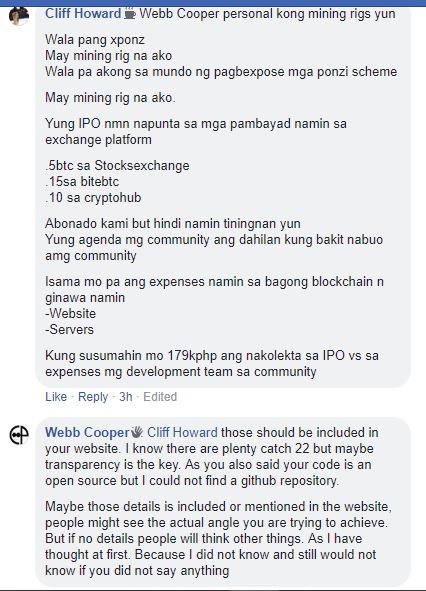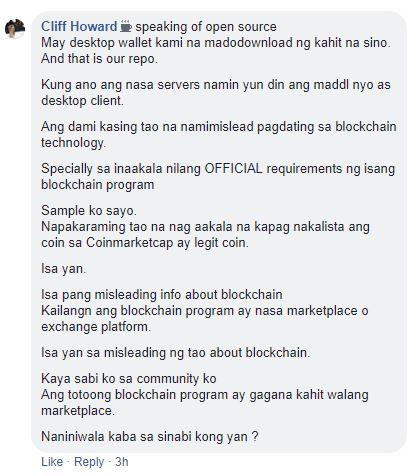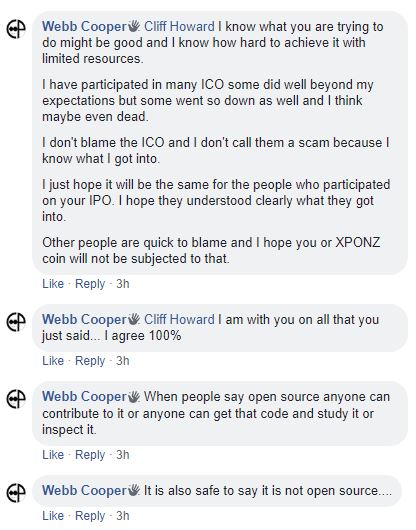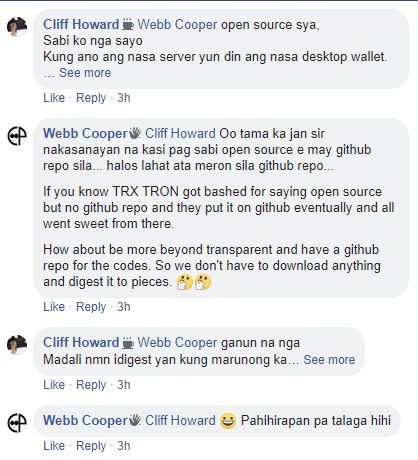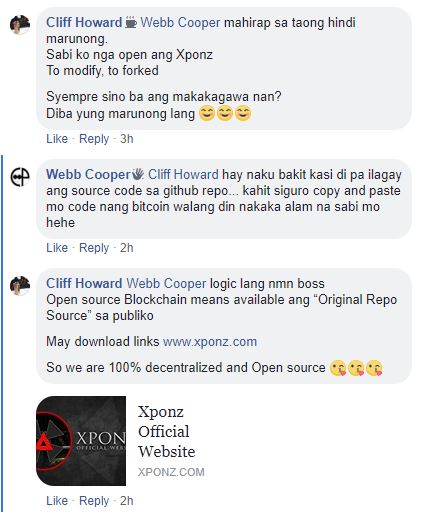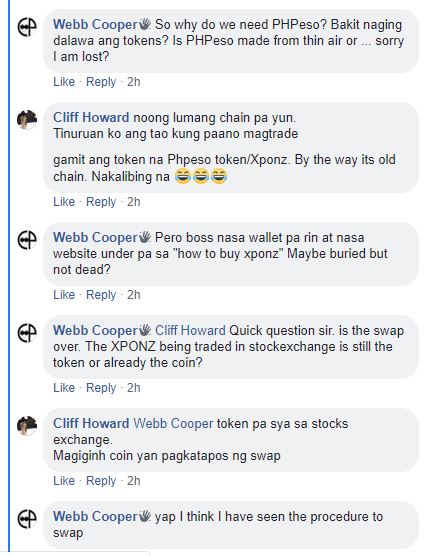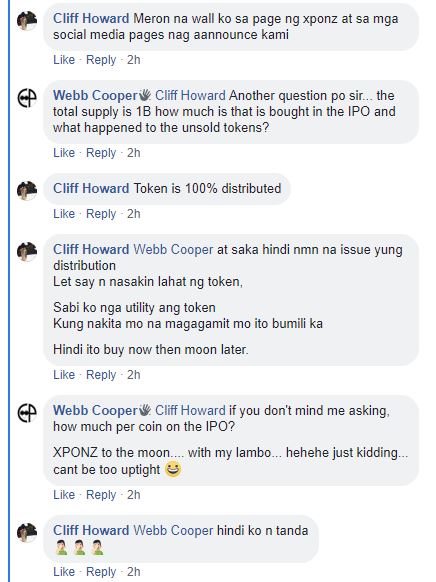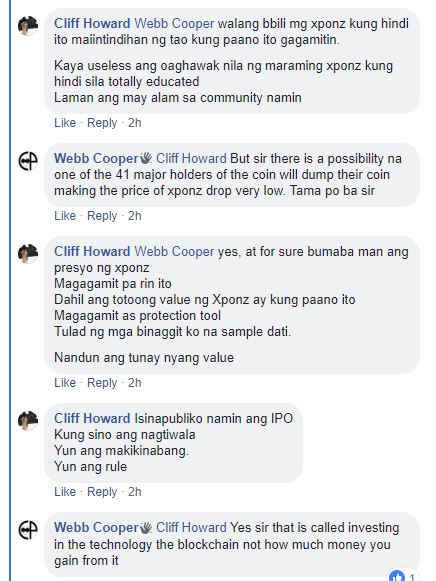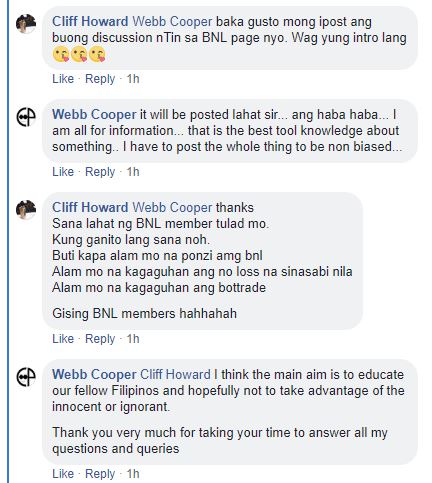 DISCLAIMER
The article above is based on my own experiences and my own research. I don't claim it to be 100% accurate.
I am not a financial advisor. The article above is just my own opinion. Please do your own research.