XPONZ Protecting You Against Fraud and Scams – XPONZ Revisited Part 3

14

min read
XPONZ project solution to fraud and scams
UPDATE 23/01/2019
XPONZ is now a dead project. It's creator lost it and upset most of its community resulting in the XPONZ losing significant support from its community.
The XPONZ coin still doesn't have a proper value. The creator just dictates the price inside its so-called decentralized exchange. I doubt that they will be able to get this into any exchanges. People that joined the ICO would certainly lose everything.
This XPONZ is becoming like just a scam unless the creators concoct a miracle.
On my previous article, XPONZ Revisited Part 2 – Real Use Cases Solving Real Problems I have mentioned about the xponz project trying to stop identity theft.
Here is a short recap of that article. The xponz project managed to put another layer of security on your facebook account if you use the xponz platform and create your own ID or alias. This information can then be put on your Facebook account infobox so that people can match each other to confirm your ownership of that account.
I did point out that other scammers will do every means to try and trick you. They can do this by just changing a single letter as I did on the previous article. This is why even if you have another layer of security in place using the xponz platform, you still have to be vigilant in checking and cross-checking. You can do this by typing the said Alias or xponz ID character by character instead of just copy and paste.
XPONZ IS NOT A DEAD PROJECT
Looking at their social media interaction (you can't really miss them), they have been putting out use cases for their platform. They are also doing website and wallet updates and upgrades.
Their latest use case is on how the xponz platform protects a seller and buyer, especially within the social media Facebook. As we all know, there are plenty of Buy and Sell groups in Facebook and the xponz platform is excellent in putting security to protect both the seller and the buyer.
How Can XPONZ Protect You As A Seller and/or Buyer?
Most buy and sell we see on Facebook are in a GROUP which is run by an admin.
By using the XPONZ platform as a security and the trusted group admin as the mediator, scam and fraud can be prevented.
This is how it works, I am basing it to Cliff Howard's tutorial here, I hope I got it right. Anyway, when a seller and buyer are getting into a deal, they will both use their xponz wallets (xponz platform) to make sure that their transactions are legit and recorded.
I will be using the following examples, not to make trouble or anything like that but because it is the best scenario how the xponz platform can protect the seller and buyer.
We will use the group BNL EURO BUY AND SELL. On this group, a seller needs to show his/her Photo ID to show that he/she is a legit seller. There are a few things that I can see that are wrong here.
The seller is showing his/her private information to everybody because it is public anyone can copy it.
A seller can just use any Photo ID to get the trust of the buyer.
People still get scammed because the trusted seller took off with the money without transferring the said Euro equivalent.
All these problems can be prevented using the XPONZ platform.
Steps to follow as an example using XPONZ platform when dealing in BNL Buy and Sell Facebook Group.
Seller posted on BNL Euro Buy and Sell Group, 0.1 XPZ for 100 Euros. Seller included his/her XPONZ wallet address. Seller also included that it must be approved by the group admin and included the admin's XPONZ wallet address.
Buyer commented on the post that he/she is interested and included his/her BNL wallet address for the euro to be sent. The buyer then sent the 0.1 XPZ payment to the sellers XPONZ wallet address.
a) Buyer will put the seller's wallet address at the Recipient field.
b) Buyer will put the amount to be paid
c) Buyer will put a "tick" the option to put "transaction description" and put the desired description of the payment.
d) Buyer will put a "tick" on "Message is never deleted".
e) Buyer will put his/her passphrase.
f) Buyer will click or choose the option "Transaction has to be approved by a certain number of accounts"
g) Buyer will then adjust the "Finnish Height" (approval deadline) by clicking the minus and plus sign to the desired deadline date (whether 2 days, 3 days, etc). When there is no approval after this "Finnish Height" or deadline date, the money or XPZ or DPT will be sent back to the buyer.
h) Buyer will put the Admin's XPONZ wallet address in the "Accounts (Whitelist)" field. The admin will have to approve this transaction before the money (XPZ or DPT) will go to the seller.
i) Buyer will then click on "Submit".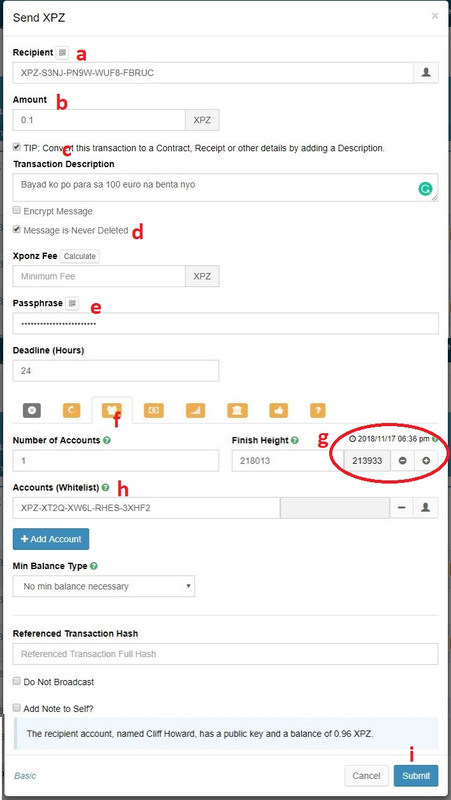 Buyer will then message the BNL Buy and Sell Facebook Group Admin a screenshot of the transaction.
Seller will also see the transaction appear on his/her XPONZ wallet.
However, the seller will not get the money (XPZ or DPT) until the BNL Buy and Sell Facebook Group Admin approve it.
The Seller will now send the Euro to the Buyer's BNL wallet. (I have not tried this so I don't know how long it will take before the Euro is in the buyer's BNL wallet.)
The seller will also send the screenshot of the transaction of him/her sending the Euro to the buyer's BNL wallet address.
The buyer will again message the Admin when he/she receive the Euro in his/her BNL wallet address.
The BNL Buy and Sell Facebook Group Admin will see that there is a pending transaction that needs to be approved. Also, the Admin has received the messages from the seller and buyer.
The Admin then approved the transaction and the money (XPZ or DPT) will now be released and go to the seller's XPONZ wallet.
These transactions will only take hours or even just minutes.
However, it all depends on other circumstances. I know that the xponz transactions only takes seconds. The circumstances will be:
Are all parties online at the same time? Meaning if your messages will be seen right away.
How long does it take to transfer Euro to another wallet on the BNL platform?
Why don't we bring an IF question to these scenarios?
What IF, the seller is a scammer?
If you look at the example that we used, the steps will only get to step 4 where the seller will see that the buyer did send the money (XPZ or DPT) to pay for the Euro. But because the seller is a scammer he/she will not transfer any Euro.
The group admin will not get any messages from the buyer confirming that he/she received any Euro. The group admin will not get any messages from the seller confirming that he/she sent the Euro to the buyer.
In this case, the group admin will not approve the transaction. When the deadline is finished, the buyer's money (XPZ or DPT) will be returned to his/her XPONZ wallet address.
What IF, the buyer is a scammer?
If the buyer has no intention of paying, then it will not even get to step 2 of our example.
Let us say the buyer is a little bit smart and he/she thinks that his/her money (XPZ or DPT) will be returned to him/her if he/she disputes that he/she never received the Euro from the seller.
Okay, so the buyer is saying that he/she never received the Euro from the seller. The group Admin did get a message from the seller showing a screenshot of the seller's transaction. On that transaction, it shows that the seller sent the correct amount of Euro to the buyers BNL wallet address.
Before the deadline expires and the group Admin haven't received any messages from the buyer, the group Admin will approve the transaction base on the proof that the seller provided.
This is the reason why on these type of transaction, a number of conditions need to be met.
Say for our example above, wallet addresses for the transactions needed to be shown. Put enough time for the deadline or put a condition where the Admin will make a decision when there is no confirmation 1 day before the deadline.
What IF, the Facebook Group Admin is the scammer?
This will happen if the admin will be in cahoots (magkasabwat) with the buyer or seller. It can happen but I don't think it will because as an admin of that group will earn him/her more than what he/she will get scamming people.
The scenario above is just an example. It can also be applied to a normal buy and sell Facebook groups. It can also be applied to a transient/ apartment/house for rent Facebook group.
There were lots of scams in the transient business. And as an admin of a transient Facebook group, a lot of members were asking if I, as an admin, can vouch for that person offering transient in that group.
The only way I can tell that the transient is legit is that I have physically looked at the property and personally met and saw the person's valid ID.
Now, the XPONZ platform can solve that.
Transient posted a room for rent in the Facebook group and a 10% deposit is needed. As per above example, all wallet addresses provided.
Tourist commented and wanted to book a room and sent the 10% deposit using XPONZ platform and the Admin to approve.
Transient will see the transfer but will not get the money yet so he/she will mark the room booked for that dates.
The deadline for the Admins approval on this occasion should be set to 1 or 2 days after the booked date.
When the tourist arrives at the set date both tourist and transient will message group admin that it is all good to approve the transaction and the 10% will get transferred to Transient's wallet address.
If the Tourist did not arrive at the set date, Transient will message Facebook group admin that Tourist is a no-show and the 10% deposit will be transferred to him/her.
If the Tourist arrives at the location at the set date but there is no such transient room, Tourist will then message group admin and group admin will not approve the transaction. Tourist might not have room to stay on that day but at least he/she will not lose his/her money.
I hope these all made sense. If ever you have questions you can just message me here or on Facebook.
Earning Extra Income Using XPONZ
This is probably what everyone wants to hear.
How can you earn extra income using the XPONZ platform?
If you happen to be a group admin of buy and sell or transient / for rent Facebook groups then, you can be a mediator and charge a small fee for your service.
As a mediator, there is a small fee whenever you are approving a transaction so it is just fair to charge group members fee for your troubles or services.
If you charge say 1 peso per transaction and your group is a big group then you will probably be very busy approving all that transactions. Let us say your Facebook group generates 1000 transactions per day then you have 1000 pesos extra income every day. Or you could say 1 peso from both parties per transaction then you will be getting 2000 pesos extra income every day. If you are getting 1k or 2k per day then that could be your full-time job.
You can see a more detailed instruction with images, HERE
https://steemitblog.com/extra-income-for-facebook-group-admins/
How to join the XPONZ platform and how to use it?
Cliff Howard, the founder of XPONZ have put out live videos of tutorials and explainers on how to join and use his XPONZ platform. You might want to reach him on his Facebook Account, https://www.facebook.com/cliff.howard.888
You could also explore their website here, https://xponz.com
What I would like to see on the XPONZ platform.
I am hoping that the XPONZ team are looking at making the transferring of funds whether bitcoin or any cryptocurrency a lot more convenient.
It would be nice if we are able to generate our own bitcoin wallet address within the XPONZ platform so that you can just send your funds straight to that wallet address and be able to use that address and funds to transact in the XPONZ exchange.
For example, if you have your own BTC wallet address at the XPONZ platform, you can just send your BTC from any wallet like coins.ph straight to your XPONZ BTC wallet address. Then use that BTC to convert it into XPZ or DPT.
Withdrawing funds would be easier too. For example, you want to cash out your XPZ or DPT, you just have to convert it to BTC then withdraw that BTC to any of your external wallets like your BTC wallet address at coins.ph or Binance.
At the moment depositing and withdrawing funds on the XPONZ platform is being done manually. I think one of the XPONZ team will look at the transaction then provide you the equivalent Digital Peso Token (DPT).
Same goes when you are going to withdraw your funds.
It would be nice if all these transactions are automated.
DISCLAIMER
The article above is based on my own experiences and my own research. I don't claim it to be 100% accurate.
I am not a financial adviser. The article above is just my own opinion. Please do your own research.
Do You Like What You've Read?
Smash Up That LIKE BUTTON